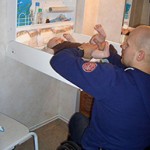 Wall-mounted hinged baby changing table suitable for wheelchair users.
DESCRIPTION
The hinged baby changing table is attached to the bathroom wall.
TIPSTER'S COMMENTS
The baby changing table is mounted at the right height for a walking person, but it also works well for the user, since he comes under it with his knees and is therefore close enough.
PRODUCT
Wall-mounted baby changing table
PURCHASED
Children's stores
EDITOR'S COMMENTS
This tip was originally posted in Spinalis tips in 2007; nowadays adjustable height wall-mounted baby changing tables are available. See Jeltec's product line.