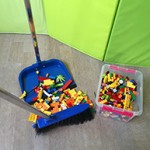 Sweeping up Lego is much easier than trying to pick up all the pieces, one by one.
DESCRIPTION
An ordinary brush and dustpan are used to quickly sweep up all the Lego pieces.
TIPSTER'S COMMENTS
I sit in a wheelchair and am unable to bend over to pick up all the Lego pieces with my hands. If there are a lot of pieces it also takes a long time. With the brush and dustpan it only takes a minute before it's all picked up.
PRODUCT
A brush and a dustpan.
PURCHASED
Grocery store
EDITOR'S COMMENTS
We have also seen this vacuum cleaner nozzle used online, maybe it's the new invention?!